Each scent also available in
3/4 oz. roller bottles to use in
Santa's Beard
or on your wrist or neck. There is
NO alcohol
in the rollers and the 100% natural scented oils
condition
your beard and give you the great Christmas Scent!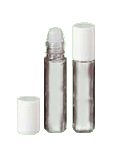 6285 Painters Circle
Minnetrista, MN 55364
(952)472-2545
Email:
sales@santascents.com
Santa
SC

ents

fragrances
are made with the highest quality and purest concentrated extracts available from the aromatic parts of herbs, flowers, trees, grains, spices and powders. They are blended together to compliment each other. They are natural substances that have the ability to positively influence the mind and body; affecting mood, emotion and physical well being.
We hope you enjoy these fragrances as much as we have enjoyed creating them. They are concentrated mixes to create long lasting effects.  All of our fragrances are made with several 100% Pure Natural Essential Oils
blended together with love since 2006
when we first introduced our products at one the largest Santa gatherings – The Discover Santa Convention in Branson, MO.  We continue to enjoy our long time clients and welcome new clients to try our scents!