About Our Products
Ingredients & Benefits: We blend the most powerful carrier oils, butters, vitamins and essential oils to give you the best possible product you could ask for. When you read our ingredient labels, you will recognize and understand the care we took to provide you with a high quality product line. Here is a detailed list of ingredients used in out balms and elixirs and descriptions of their benefits:
Oils:
Apricot Kernel Oil: Excellent Moisturizer, Keeps hair strands well nourished. Naturally contains vitamins A & C. Promotes Hair Growth.

Jojoba Oil: Antibacterial, Strengthen & Hydrates hair fibers, Promotes elasticity, Encourages Hair Growth, & Helps Repair Damaged Hair.

Castor Oil: Boosts circulation to hair follicles to increase Hair Growth and Controls Hair Loss, & Reduces Split Ends. Heals inflamed skin,

Argan Oil: Skin Moisturizer, Hair Conditioner, Anti-Aging, and Balance Skin. Antioxidants rich & nutritious in Vitamin E and fatty acids.

Olive Oil: Hair & skin moisturizer and antibacterial agent properties. Strengthens and can help promote hair growth

Coconut Oil: One of nature's best nutrients for hair and skin. Absorbs easily.

Macadamia Oil: Highest concentration of Palmitoleic fatty acids to replenish, moisturize and rejuvenate hair follicles

Almond Oil: Naturally contains vitamin A, B, E as well as Omegas 3, 6, & 9. Important to the overall strength of hair to prevent breakage.

Hemp Seed Oil: Rich in Vitamins A, B1, B2, B3, B6, C, D, and E.

Avocado Oil: Contains collagen supporting amino acids and proteins as well as Vitamins A, D, and E

Safflower Oil: Used worldwide to treat baldness or excessive hair loss. Acts as a natural vasodilator to improve hair growth. Extremely rich in essential fatty linoleic acids.

Vitamin E (No-GMO): Effective in cure Skin Conditions, Anti-Aging, Cleansing Agent, Stimulates Hair Growth, and Repair Split Ends.

Tea Tree Essential Oil: Promotes Healthy Hair Growth, Treats dry skin and Dandruff, Hair Fall Remedy, and Anti-fugal

Rosemary Essential Oil: Stimulate Hair Growth and Stimulate the Follicles.

Emu Oil: Hydrating the Hair, Prevent Hair Loss, Stimulating Hair Follicles to Help Hair Grow Thicker and Fast.

Babassu Oil: High in lauric and myristic acids and lipids which are excellent nutrients for skin and hair.

Keratin Amino Protein: Composition similar to hair with molecules that are small enough to penetrate the hair shaft; powerful moisturizer & conditioner.

Biotin: Vitamin B7 a "beauty vitamin" because it helps build and grow radiantly healthy hair.
Butters:
Mango Butter: It has a greater intensity of moisturizing than shea butter. It moisturizes, nourishes and smoothes skin and hair shaft.

Argan Butter: All the amazing properties of argan oil in a creamy solid butter to strengthen damaged brittle hair.

Aloe Butter: One of the greatest natural healing moisturizers. Contains a combination of vitamins, minerals, amino acids, proteins, & enzymes.

Shea Butter: Improves hair elasticity. Natural properties act as a sun block to damaging UVA rays that damage hair.

Cocoa Butter: high proportion of stable saturated fats, derived from stearic and palmitic acids, coupled with natural antioxidants, makes a great moisturizer

Cupuacu Butter: Creamy emollient and softer than cocoa butter. Excellent moisturizer for dry skin and damaged hair.

Kokum Butter: Rich in essential fatty acids which aide in cell oxygenation & make nutrients more readily available to regenerate skin & hair.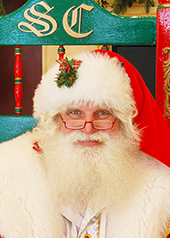 Santa Randy
SantaSCents
6285 Painters Circle
Minnetrista, MN 55364
(952)472-2545
Email: sales@santascents.com