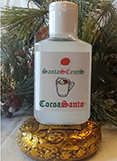 CocoaSanta
Warms with your skin to provide a rich creamy and sweet fragrance with plenty of cocoa. The soul yearns for chocolate. It's the ultimate indulgence of life. One of Santa's favorite beverages to have with cookies!
2 oz. bottle $2.50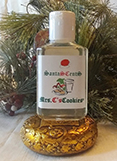 Mrs.
C's
Cookies
Fresh baked cookies out of the oven. Can you smell these buttery cookies and the vanilla frosting? Santa can hardly wait to have some!
2 oz. bottle $2.50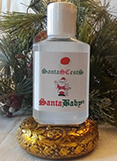 Santa
Baby
A fresh dry powdery fragrance to calm and sooth. This fragrance brings to mind warm skin and hugs with a hint of lavender. This scent can help lull small ones to sleep and instill a sense of safety and security.
2 oz. bottle $2.50