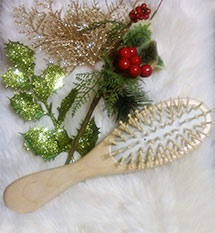 Natural Bamboo Paddle Hair/Beard Brush
Bamboo brush bristles feel wonderful on your hair roots. They massage and stimulate blood flow. This bamboo brush gently brushes through all kinds of hair types and lengths distributing the hair's natural oil from the roots towards ends. Helps maintain beautiful, stronger, healthy, & shiny hair!

For all hair types: curly, normal, spanking, natural, straight, weak, fine, long, short, thick, African American, dry, oily, dyed, wet, damaged. Wooden bristles do not weaken or cause split hairs and do not scratch the scalp.
Length: 8 ½"
$8.00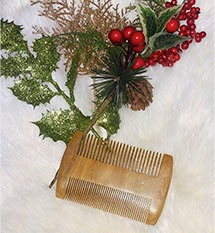 Sandalwood Dual Beard & Mustache Comb

Dual action: This is a dual action beard comb with wide teeth on one side and fine teeth on the other side. We recommend using the larger teeth for coarse hair and working the snags out of your beard, and the fine teeth for smoothing out your mustache to get the perfectly groomed look. Works equally well on thick or fine facial hair.

Each comb has an aromatic and manly scent that will last. Sandalwood is very durable. It is perfect for home use or travel as it is very robust and will easily slide into a pocket. The wood has a look and feel which is completely natural and the smooth finish of this product makes sure the material feels great in your beard and also in your hand.
Length/Width: 3 ¾" x 2 ½"
$7.00